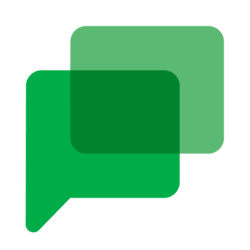 Google Chat App
Google chat is another safe and secure way of communication app launched by Google. It helps in easy business communication built in the Google workspace ecosystem. With this application, you can chat with your employees via texting. You can also build different chat rooms, deliver presentations, create web conferences, and share documents.
Earlier, this application was also called Hangout, but after adding new features, it is now named "Google chat." The app offers a range of features to enhance productivity and collaboration. Users can share files, documents, and images directly within the chat interface, enabling efficient sharing and collaboration on projects. 
The app also provides powerful search capabilities, allowing users to quickly locate past conversations, files, and shared content. With its user-friendly interface and robust collaboration features, Google Chat is a valuable tool for teams and individuals seeking efficient and effective communication.
Version: Varies with device

Features
The Google chat will help you provide group conversation chat with your business team. This way, you can have one place to share all the work files and media.
Video chat capacity is great as you can add more than 250 participants to your group. But in Hangout, you can add ten attendees at a time.
Its integration with Google is great, making it better than Hangout. For example, you must simply tag on the Google meeting app to start the meetings to call attendees. And if you want to propose a meeting, simply schedule the date in the calendar; it will automatically notify them.
This application is free to use as you don't have to pay for any of its services.
Here you can filter the conversation and find the content you need.
It is full of benefits; you can have Holds, Admin Settings, Export, Search, Data Loss Prevention, and many more features.
Not only are these, but there are also many features that you will be able to get more in the future.
Pros
Using the Google chat application, you will get the facility to share all your work in one place.
It is a compatible way to communicate as you can use the application on any device you use.
It comes with one of the fastest ways to connect with your colleagues and other employees.
It is a free workspace as you don't have to pay for these services.
This is a simple and very effective application as you just have to send the invitation and start sharing and conversation.
It comes with tight integration of new applications with Google workspace.
Cons
You may have noticed that it does not come with an extension with fewer features and no notification setting.
There is no support for third parties and less support for bots.

Conclusion
In Google Chat, there may be many updated features or settings, but it is not much compelling enough. There were so many facilities that Hangout has given to its users, but after the re-launch, those features are now gone.
It's no doubt that in the upcoming time, Google will update those features. However, it will take some time. Until then, don't miss what you already got in this latest version download and use those features effectively for your business.